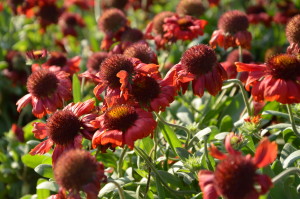 You are welcome to come enjoy the tranquility and beauty in the gardens. The gardens house 5 themes throughout the area. When you first drive in there is a wildflower garden with attached sun loving perennials all along the front of our parking and attracts the many butterflies and other flying insects drinking the sweet nectar. To the farthest garden, you will walk among tropical plants with a gazebo as center stage with assorted flowering hibiscus, yucca, and unusual grass. You can hear the 10 foot water fall when you enter in the beginning of the gardens. After passing through espalier apple trees and honey locus, you enter into the tranquil Japanese garden.
In the Japanese garden, you will view the assortment of evergreens, weeping pine trees, 15 foot Hindu Pan Scotch Pine tree and sculpture junipers. The next garden will house a cottage array of cutting flowers, flowering shrubs, unusual sculptures, and benches for relaxing to come in 2016. Our gardens are open during regular business hours and are free for all guests.
Below are some of the Christmas and holiday items that we have for winter 2016.