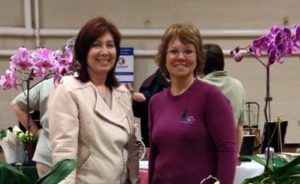 Owners Mary Beth Gullickson and Jean Sticha
Cedar Brook Garden Center started their dream of a garden center in New Prague in the parking lot of a grocery store in 2012. We operated the Garden Mart for three years while developing the permanent site at 26800 Langford Ave( hwy 13 ) New Prague, Mn.
We opened the main location on April 23, 2015 including a full service Garden Center and large display gardens. The gardens were planted with trees in 2008 with a stone paver display area for nursery plants. Now the gardens are developing into five major themes displaying unusual plants and unique style design. The Gardens are in continual development so every time you come out there is something else to discover. We invite Guest to walk the gardens during our open hours. We also have a program in place to rent the garden out for groups, organizations and business. Check our calendar of events for programs and education we have in scheduled.
Mary Beth Gullickson is a Horticulture Major and master designer in floral culture and landscape design. She has been in the Floral and Garden business for 35 years working with top leaders in the industry. Her passion is to develop new designs with all plant variety's using colorful textiles and current trends. Mary Beth lives on a hobby farm raising chicken and ducks. Her passion is growing and gardening with a focus on vegetables and herbs.
Jean Sticha has lived in the New Prague area and has been owner of D and J Landscaping for over 35 years. Jean and her family love the outdoors and the landscape business – developing garden rooms and hardscape structures has been their specialty. Jean has a fruit grove and vineyard developed on their farm location, along with chickens you may see from time to time at the garden center.
We want to extend a very warm welcome to our Garden Center and Community Garden environment for your pleasure and family fun. We want to provide a source of education and service to help with your gardening and landscaping needs.